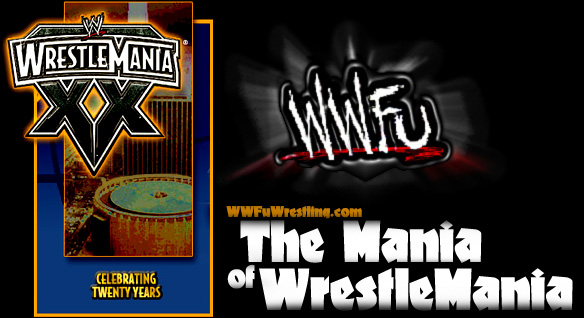 The Mania of WrestleMania
They're living, breathing parts of our culture. It's almost unfathomable to imagine our society without marquee sports and entertainment events like the World Series, Super Bowl, Emmy Awards and Oscars.

Some 20 years ago, a third-generation promoter only just emerging from his father's shadow rationalized that a similar signature extravaganza could be developed to help accelerate the growth of his pro wrestling empire. "With our national platform, it seemed logical that we have our own big annual event," World Wrestling Entertainment architect Vince McMahon says.

The end result was WrestleMania, the very epitome of what McMahon would come to term "sports entertainment."

Long a marginalized form of entertainment, belittled for its predetermined outcomes and over-the-top theatrics, an updated and more energetic McMahon-inspired version of wrestling was helping to breathe new life into the genre.

McMahon's vision for the product unquestionably came into focus when WrestleMania I took center stage at New York's Madison Square Garden on March 31, 1985.

Not content to simply book a series of dream matches involving the organization's top talent -- which at the time included such stars as Hulk Hogan, "Rowdy" Roddy Piper and Andre the Giant -- McMahon instead utilized his stars in tandem with a clutch of luminaries from the entertainment world. The end result was a glitzy, top-shelf production that reached out to an entirely new fan base.

Among those lending their name and celebrity that first year were Mr. T (who teamed with Hulk Hogan in the evening's main event), Muhammad Ali, Liberace, Cyndi Lauper and former New York Yankees manager Billy Martin.

Cracking open the door for casual and novice fans, WrestleMania I became what WWE officials labeled the first national "shared experience" for their brand of entertainment. "I think it sunk in and people got it," McMahon says. "It was a hybrid and culmination -- the very best -- of what we do every year. Some things come out of it, but most everything leads to WrestleMania."

The journey leading to that March 1985 date at Madison Square Garden is just as vital to the story.

In 1982, after working for his father, Vincent J. McMahon, for more than a decade, Vince McMahon and wife Linda purchased the elder McMahon's wrestling promotion in a leveraged buyout. "It was a balloon payment kind of a thing," McMahon says.

There were four installment payments the son needed to make over a one-year period. Not unlike the stipulations he might utilize in one of his steel cage matches, McMahon explains that if he missed any of the installments, the elder McMahon and the other stockholders would keep the money Vince gave them and get the business back to boot.

Once he had established control of the company, the younger McMahon went about the business of taking a regional promotion that had thrived for years in the Northeast and turning it into a nationally touring promotion -- a move that meant crossing the imaginary boundaries that rival promoters had been observing for years.

It may have seemed like a gamble to break out of the territorial mentality that was prevalent in his father's day, but by this time, McMahon was building a reputation for making bold moves. "After taking that risk, I went into WrestleMania and threw the dice again," he says. "But I definitely thought that it was the right thing to do; there was no question about it. Not that I wasn't holding my breath, waiting for the returns to come in. But entertainment is a risk-taking business. Sometimes you don't win. We didn't win with the XFL. But if you believe in yourself, you go back."

As evidence of the confidence and conviction McMahon and company CEO Linda McMahon had in the WrestleMania concept, he points out, "We hocked just about everything we had to be able to pay for the closed-circuit equipment that was needed in each venue."

Unprecedented hype and press coverage -- including the marketing coup of landing "Saturday Night Live" guest-hosting duties for tag partners Hulk Hogan and Mr. T -- led up to WrestleMania, and the anticipation proved to be well founded.

Nearly 20,000 people quickly snatched up tickets priced in the $100 neighborhood. But more important, the spectacle filled hundreds of thousands of closed-circuit seats in more than 200 venues around the country. Another 63,200 households watched the event via a fledgling technology called pay-per-view.

By all artistic, fan and financial accounts, it easily surpassed the company's expectations.

However, second-guessing the product is a philosophy to which McMahon fervently subscribes. "Any creative person has to do that," he says. "We have postproduction meetings after almost every show. We ask what was done better than what we (anticipated) and what didn't come off as well and why. When you're in this creative business, you must constantly be introspective and ask what you can do better."

There have been no glaring WrestleMania glitches through the years, but, as McMahon stresses: "More than anything else, the batting average is important. WrestleMania is generally when we knock it out of the park. I don't know if we've missed yet."

Each of the 19 previous extravaganzas has possessed its own unique identity and personality. But a consistent philosophical thread is that the outcome isn't as important as the spectacle of the event.

In that vein, the WrestleMania mix of sports and entertainment has, throughout the years, attracted such celebrities as Pamela Anderson, Ray Charles, Alice Cooper, Aretha Franklin, Joe Frazier, Robert Goulet, Mary Hart, Gladys Knight, Little Richard, Jenny McCarthy, Reba McEntire, Willie Nelson, Ozzy Osbourne, Burt Reynolds, Joan Rivers, Pete Rose, Run-DMC, Bob Uecker and Mike Tyson.

While the 1985 affair will be remembered for being the trailblazing extravaganza, the one that followed two years later in 1987 also generated significant lore.

The national promotion had taken off like a rocket by that point. McMahon was on a roll and two successful WrestleManias were in the books.

Still, another WrestleMania sellout was far from guaranteed as the company prepared for its third edition of the annual extravaganza. The reason was simple: The selected venue was suburban Detroit's Pontiac Silverdome, and a sellout would require attendance in excess of 90,000 people.

Booking the Silverdome presented a double-edged sword. Filling the stadium would be an unprecedented achievement, while the sight of thousands of empty seats could tarnish McMahon's growing reputation. "As a promoter, you have to be an optimist in general, but you also must be a pragmatist," McMahon says. "You naturally look for upsides, but you'd better quickly glance at the downsides. You always have to ask, 'Can I get out of this?' Until we got through the third WrestleMania, it was a crapshoot."

Tickets for the Pontiac date went on sale about six weeks before WrestleMania III. When it came down to crunch time, even his harshest critics had to acknowledge the fact that big-event promotion was a McMahon specialty, as 93,173 people walked through the Silverdome turnstiles that night.

"We drew more people than the pope," says Basil DeVito Jr., WWE senior adviser, television.

That night's card was topped by a match for which fans had been clamoring for years: a showdown between champion Hulk Hogan and the massive Andre the Giant.

In order to secure Andre's services for that match, McMahon flew to London, where the roughly 7-foot-tall, 500-pound giant was filming "The Princess Bride." McMahon's mission was to persuade the Frenchman to return to the ring. "He told me he was getting ready to die," McMahon says. "His back was in so much pain, he was basically going to 'off' himself. As a friend, I was very angry and concerned. He agreed to have a back operation, which is another story in itself. They gave him more anesthesia than they'd give a horse, and that could've killed him."

But the operation was a success, and Andre rehabbed in McMahon's home gym. "I knew he could draw 93,000 people and wanted him to have that distinction," McMahon says. "From an emotional standpoint and my attachment to Andre, that (particular WrestleMania) stands out. The attendance record is one thing, but what Andre did for himself and the business is something else. He lasted several years beyond that and went from being disconsolate enough to (end his life) to becoming the biggest thing -- literally and figuratively -- in the history of the business. You have to have dancing partners, and Andre was the only one who could've drawn that attendance figure with (Hulk Hogan)."

As they did for WrestleMania I and X, faithful WWE fans will doubtless flock to Madison Square Garden for WrestleMania's 20th installment. "It's smaller than (some of the other venues we've used), but we look forward to that challenge," McMahon says.

Company expectations are high for the event, which sold out in less than five minutes. At $49.95 a pop, it could very well become WWE's biggest PPV payday ever. "You will have to go back to a Mike Tyson PPV to find a PPV event that will do more business than this one will do," says Kurt Schneider, WWE executive vp marketing. "It's going to be larger than life."

About 15 years ago, company veteran DeVito wanted to use the tagline "The Biggest WrestleMania Ever." But, as he recalls: "Vince was against it. He said (the company) might want to do it on the moon someday."
Interview with Vince McMahon
It's been a long, wild ride to WrestleMania XX. Since the first edition of WWE's annual wrestling spectacular in 1985, the company has exploded into a television powerhouse, fought a life-and-death battle for its very existence and even changed its name. WWE chairman Vince McMahon was asked to reflect on the road his company has traveled these past 20 years and where it's heading.

WWFu: Twenty years ago you rolled the dice and risked your national expansion on the first WrestleMania. Could you have imagined back in March of 1985 that you'd still be here trying to top yourself in 2004?
Vince McMahon: Well, yes. It was a bit of a risk, there's no question about that. We didn't have to make money, that's for sure, but it all caught on, it did extremely well, and the rest is history. But after the first one, then there's no reason why they wouldn't be successful on an annual basis. The whole theory behind (WrestleMania) was no different than the Super Bowl, or the Emmys, the Oscars, whatever. We should have had our big annual event. And that's what it still is.

WWFu: The early days of WrestleMania saw WWE utilize a lot of mainstream celebrities. Can we expect anything along those lines this year?
McMahon: This year we're not. Quite frankly, our guys have become the celebrities. ... The original emphasis of WrestleMania was all about "what is sports entertainment." We were still defining it for the masses then. They understand what sports entertainment is now. We find that our audience actually resents celebrities coming in unless the celebrity is woven into the fabric of a story line and really adopts what our audience adopts, which is WWE.

WWFu: About three years ago now, your last national competitor (Time Warner-owned WCW) went out of business. Do you miss the competition?
McMahon: Hindsight being 20/20 ... I don't know that it may have been just a matter of time before we killed each other off. I don't know. Our understanding of the business on a long-range basis really gave us an advantage. We were overmatched in terms of assets, but they were overmatched in terms of work ethic and in terms of understanding how to build a brand. And in the end, our formula worked. Quite frankly, though, I was surprised when (they) threw in the towel. I didn't think that would ever happen.

WWFu: You were wooed quite publicly when your contract with USA Network expired in 2000. What convinced you to make the move to Viacom?
McMahon: We always enjoyed (our relationship with) USA. Some of the people who are still there are still our friends. But Viacom gave us more of an umbrella type thing in terms of what they could do for us. Obviously, this is before USA was acquired by NBC. But when you look at Viacom in terms of all they could do for us in terms of theme parks, publishing, everything along those lines ... And we were already on UPN, so it was just a matter of time then before there would be synergy with that and Spike TV, or TNN as it was called when we first went over. It just gave us more opportunities I guess.

WWFu: About a year ago, WWE re-upped its "SmackDown!" contract with UPN, and in doing so abandoned a long-standing practice of purchasing airtime and then selling the advertising yourselves. Why the switch to a more traditional license-fee arrangement?
McMahon: We made that decision because it was a better deal for us from a downside standpoint. But beyond that, we were hopeful that the "SmackDown!" sales force combined with CBS' sales team would bring more advertisers than we were able to attract because they deal with a larger spectrum (of advertisers). So the hope is that they will be able to attract sponsors and advertisers that we otherwise, in our small little world, cannot.

WWFu: You came out on the losing end of a legal battle in 2002 with the World Wildlife Fund over the rights to the name WWF, a name your company had been using for a number of years. Were you surprised that you lost that case?
McMahon: Very.

WWFu: You had some sort of understanding in place with the World Wildlife Fund prior to the lawsuit, didn't you?
McMahon: At one point they came over and strong-armed us into signing something. There was absolutely no confusion whatsoever in the marketplace between the World Wildlife Fund and the World Wrestling Federation. We were told by those people that their chairman or someone got off a plane in Nairobi and the people who were there to greet them were disappointed because they thought that "the wrestlers had arrived." To my knowledge, if that's true -- and I doubt it very seriously -- that is the first and only confusion of the two brands. But nonetheless they said that this was a big problem for them. We signed something ... (after) they threatened all kinds of litigation, etc., which at the time would have buried us. So we signed it under duress ... and basically as time went on, it was like, "This is onerous, this is absurd." And we continued to grow exponentially ... far more than they did, and we became a global brand. Quite frankly, I don't know why they picked on us really ... because we've done them no harm. So the only avenue that was available to us -- other than living under their thumb, which we didn't want to do -- was to change the branding ... so we did. And quite frankly, I'd like to think it's a textbook case of how you change your branding.

WWFu: Following the collapse of WCW, you essentially went about creating your own competition by creating separate rosters for UPN's "SmackDown!" and Spike TV's "RAW." Are you committed to this strategy in the long term?
McMahon: I am committed to it very long term and ... it has worked out extremely well for us. We actually have a tour going on in Japan as we speak and one back over here. When we were going head-to-head with Turner, it was one big soap opera played out on Monday and Thursday, and it was just a matter of time before we burned out those stars or those story lines creatively. We just did a survey in which Nielsen told us that 70% of both "RAW" and "SmackDown!" viewers do not watch the other brand. Which means that we have a pretty large audience out there when you combine the two. Whereas before it was the opposite -- 70% of our audience watched both because it was the same story line. Now (that we've established) the brand separation ... we're gonna go the opposite direction and start promoting one to the other.

WWFu: You recently had a bit of a contractual showdown with DirecTV during which four of your pay-per-views were not aired. Are you satisfied with the deal you ended up with and is the WWE getting the slice of the PPV revenue pie it deserves?
McMahon: Well, I haven't tried to change our deal. I don't know that (our current) 50/50 deal really is fair because there's nothing that's organic about a WWE pay-per-view. We create the interest, we create the characters. We're (both) the creators and the presenters as opposed to other PPVs from the sports world that happen organically -- ours is completely created and done by us. ... We're not the only thing in pay-per-view, but from a live-event standpoint, we're obviously the biggest contributor on an annual basis and have been for some time. We've also elected to produce two additional PPVs that will come out this year. At one point there were 24 PPVs -- we had 12 and Turner had 12. Since then, it's been down to just 12, and there's room now since we have the separate brands ("RAW" and "SmackDown!") and each brand has had their own successful PPVs. By (adding PPVs), I'm not asking DirecTV or anyone else for more money -- even though we're creating two events that they otherwise didn't even know they had on the books. So I do think that we're entitled to our 50%, and I won't take any less. It's unfair to a producer who creates all of this to not give that company a 50/50 (split). If you accept less than that, it's just a matter of time before the pipeline squeezes you out.

WWFu: Your deal with InDemand is up for renewal soon. Can we expect any similar drama?
McMahon: We've drawn the line in the sand with InDemand. We have a 50/50 deal with the cable systems, and InDemand being the distributor garners some points from us as well as they do from everybody else that uses them. But again, this year is where we drew the line in the sand and said, "Look, if you take more than you have in the past ... why are you taking more? Just because you're greedy? Give me a reason why you want more money. Give me any valid reason whatsoever." I don't mind paying people more for something if we're getting more. But just to change a deal because you're greedy and you want more? No. I'm not gonna go along with that. But we have agreed in principal -- it's not in writing yet -- to stay the course with InDemand.

WWFu: Attendance at house shows (nontelevised events) has been a source of concern for the company recently. With so much emphasis on building to the PPVs and putting on exciting free television, is it tough to convince the fans that nontelevised events still matter?
McMahon: I think it's a difficult balance. It always has been, even with the various tiers that we service on television. You want to be able to give away enough to maintain interest, but at the same time, if you give away too much, then it's going to hurt your PPV or DVD or whatever the next tier is. Likewise in terms of our live events: It's difficult but it can be done. You don't want to play a market too frequently. I think Madison Square Garden is the building we play most frequently, which is only six times a year. Of those six times a year, there should be three "SmackDowns!" and three "RAWs." So let's say you're a "RAW" devotee, in order to see the stars live you only have three opportunities a year to do that, and that's in a major market. So I think that as time goes on it's a question of supply and demand. And we're building up the demand to see our new, younger stars in action. I also think that our live events have to more closely mirror our pay-per-views and we're gearing that up too. The downside is, some might say, "Well, geez, you guys are only doing 40% capacity or something like that now." True, that is a downside. But the upside is -- what's gonna happen when we catch on fire?

WWFu: Speaking of catching fire, it's sort of become the common wisdom that wrestling is a cyclical business. During the red-hot periods of the mid-'80s and late-'90s, WWE brought an entirely new audience to the product. Is there a level of faddishness that those types of periods will always depend on, or can those boom periods produce a long-term fan base?
McMahon: Well, I don't subscribe to (wrestling) being cyclical. And they've always said that about our business. I think that we're no different from a Hollywood studio ... and our batting average is much higher than any studio. By and large, regardless of how well a studio is run, it's only as good as the product it produces. And we're the same way. The difference, though, is that even at a time like this when we're not, quote, "on fire," we're still making money. A Hollywood studio (will) lose millions of dollars until they hit. Through the years when you chart our progress ... there's been a constant (upward) grade, so that every plateau we reach is higher than the last, which means that we (ultimately) have a larger base of fans.

WWFu: In the last couple of years, you've bought up a lot of wrestling footage from defunct companies like ECW and the old American Wrestling Assn. Combined with the library that came with the purchase of WCW and WWE's own archives, you're now in possession of thousands and thousands of hours of footage. How do you plan to exploit that library?
McMahon: It could take any number of forms, and we're exploring that now. It could be a channel in and of itself in terms of a digital channel. It could be an analog channel, although they're very expensive. It could be an SVOD (subscription video-on-demand) type situation, which we think is a viable alternative, too. So we're looking into all of that, and we know that with all of the libraries and everything that it is a tremendously valuable asset. You can even exploit it on a tiered basis -- where if you start it out as SVOD you can eventually then move it onto a basic cable channel, etc. The other aspect of this is that it's really global in nature. When you think about our brand and the inroads we've made in so many different countries, that channel is viable in almost any language or any country because it's readily understood. I think we're poised for a lot of growth in the very near future on a global basis.

WWFu: At a press conference a couple of years ago, your wife, (WWE CEO) Linda (McMahon), said that you hoped to eventually have 25% of your total revenue coming from international operations. Is that something that you see on track?
McMahon: I think we'll eventually get there. From an international standpoint, I don't think we've done a very good job, quite frankly, of exploiting the international market like we really should. We're on television in many many markets and do extremely well television ratings-wise, but that's only one aspect of what we do. We do licensing, we do merchandising, and live events, and publications, and DVDs and everything else imaginable. And we haven't integrated all of that in our international platforms, and (doing that) is one of our goals.

WWFu: Speaking of the international arena, you recently took your crew to Baghdad to tape a special "SmackDown!" in front of U.S. troops there. What was the genesis of that trip?
McMahon: This company is truly an American success story. It's Chevrolet, apple pie and WWE. Some people tend to forget the roots that we have in the fabric of Americana. So I'm very pro-American, and whether you agree with whether we should be in a war or not, I think that it's important for everyone -- unlike Vietnam -- to support our troops. Wherever our troops are, they're away from home, they're making a sacrifice, and they are defending the freedoms that we enjoy back over here, even though they're on foreign soil. So to us it was a privilege to go over there.

WWFu: The Rock has been the first WWE star to make the transition to major film star. How do you weigh the loss of a charismatic performer -- at least on a day-to-day basis -- against the benefit you get from having a mainstream star identified with your company?
McMahon: First and foremost, when you create stars, I think you want to hold onto them to a certain extent. At the same time, you want them to be able to go fly, and that's what we did with Rock. The Rock loves this business and will always be a part of it, but only on a sparing basis. He's graduated so quickly into successful film work, but he'll always want to come back. And as such that spot needs to be filled with someone else that's gonna come along and capture everyone else's interest and imagination ... and then at the same time probably do a little Hollywood work on the side and gradually get into that. So it's important to have a new young stable of stars, always ready, always pushing the envelope, so that you can capitalize on them. If you stop building stars, which we never do, you wouldn't be in business.

WWFu: You've had a couple of dust-ups with reporters in the past year or two, including rather memorable encounters with Bob Costas and HBO's Armen Keteyian. Is that the real Vince McMahon we're seeing, or is there a degree to which you're slipping into the onscreen persona you've crafted for WWE fans over the years?
McMahon: I'm extremely passionate about our product. And when I think that the product is being treated unfairly, it upsets me. I guess maybe you can easily read me sometimes when I'm upset. But the character I play on television, in our environment, that's a performance. When I'm doing the Costas show or any other show, generally it's me. It depends on where they lead me. A lot of times they're looking for me to be the bad guy. And if they give me reason to be, sometimes I don't disappoint them.

WWFu: There are few companies -- public or private -- that are more closely identified with one person. Do you see WWE continuing to thrive when you're no longer at the helm?
McMahon: Absolutely I do. This is a young man's business. Now that doesn't mean at 58 I can't contribute, because I think young -- I think mentally maybe I've just reached puberty. You need to surround yourself with quality human beings that are intelligent and have a vision, and we're doing that. I'm setting it up now, even though I have no compunction to check out at all. I think my idea of retirement might be to one day work a 40-hour week. At the same time, I don't want to be an impediment to progress. Some people when they get up there in age tend to be a little too conservative, not want to take as many chances. And I know people around me, not just my family, will let me know if I don't know it myself, and hopefully I will. But (the company) is to an extent heavily identified with me, I guess, because I've been a public figure for all these many years. I've been on television for 35 years or whatever it is. But it won't even have a hiccup if I get hit by a bus tonight. It really won't.
The McMahon Family:
America's Most Dysfunctional Family
Deftly delivering the showmanship and hype that keeps his "sports entertainment" empire rolling, World Wrestling Entertainment chairman Vince McMahon may command the lion's share of the spotlight, but company CEO Linda McMahon is the glue quietly keeping WWE together.

While the sexier areas of talent, creative and television fall under Vince's aegis, Linda has been driving the administrative, business development, operations and strategy side of things for more than two decades.

"We've been able to work to our strengths and make a great team," she says. "I don't know where else I would've had the opportunity to be on the ground floor of so many growing businesses."

Married while still college students, Vince and Linda's relationship as business partners dates back nearly as far, beginning when Vince went to work for his father in the early 1970s. Today, their two children -- Shane and Stephanie -- also play major roles in the family business, both behind and in front of the cameras.

On-air plotlines routinely involve all four McMahons -- with the end result more often than not being some sort of physical altercation.

"It's more difficult for them than it is for me," Vince says. "I know I'm doing the right thing for our audience; there's nothing I wouldn't do for them. Shane got sick the first time he had to slap me. I told him that he had to separate himself from his character and that he had to give people what they want."

Another story line called for Stephanie to slap her mother. "The mere idea that she was going to slap me was almost beyond her comprehension," Linda says. "At first, she actually begged not to have to do it. When she actually did and we saw each other backstage, she put her arms around me and cried."

Being written into an occasional script is fun for Linda but, "I'm not an accomplished actress," she says. "Vince, Stephanie and Shane have that on-air charisma. I'm pleased to be part of the story line, but know it's not my forte, so I stick with my day job."

Genuinely thrilled to have his children working alongside him, Vince is confident that they wouldn't have it any other way. "They weren't pushed into it," he says. "They could've chosen anything else in the world and this is what they picked."

The condition placed on Shane before joining WWE was that he would first have to graduate from college. "He didn't even bother to go to the ceremony," Vince recalls. "He packed up his belongings and reported to work the next day."

Shane, who now serves as the company's executive vp global media (as well as an occasional wrestler), began his WWE career by working with the ring crew. As his famous father explains, "I believe in people paying dues, especially my kids. People think the best thing around here is if your last name is McMahon. Unfortunately, it's one of the worst damn things. I expect more from my kids than anyone else. When they let me down, I tell them in front of everybody. ... I can go too far (sometimes), but it's only because I'm trying to teach them."

As he's demonstrated in matches with Shane, Stephanie and other WWE superstars, the elder McMahon isn't afraid to mix it up in the ring. But at 58, "my days as a performer are numbered," he says. "When I'm out there, I chew up so damn much time that it's not allowing some of our younger talent to get a turn at bat. As time goes on, you'll be seeing less of me. I'll do what I truly love -- producing and directing."

While Vince is backstage at every WWE pay-per-view and television taping, Linda's schedule approaches one more typical of corporate America, although it's not uncommon for her to get home at 9-10 p.m. "(But) It's a 'good' long day," she says. "You have to love what you do -- and we do."

Stephanie, who serves as the company's vp, creative writing, has also been a frequent on-camera performer over the years, portraying everything from the damsel in distress to a scheming general manager.

Absent from WWE broadcasts since her real-life wedding to Paul Levesque (who portrays world champion Triple H on Spike TV's "RAW"), the younger of the McMahon siblings says that she's something of a mixture of her on-air roles. "I'm a strong person and have a strong character," the Boston University graduate says. "I'm sure that can, at times, come across as being bitchy. I always say what's on my mind, but I'm willing to admit when I'm wrong."

Had her parents tried to dissuade her from joining WWE, Stephanie says she would simply have tried even harder. "If your parents tell you not to do something, you know you're going to want to do it. My parents never encouraged or discouraged (my brother and I from participating) in the company."

In her case, however, it's something she set out to accomplish with single-minded purpose. "I was a camp counselor once and Shane worked for a brick mason, but we really wanted to work for this company. I'm not exactly sure what else I would've done in my life."

An integral part of WWE now, it's clear she doesn't want to go anywhere else. "Absolutely all facets of everything I could possibly want in this world are right here," she says. "We do everything -- television, drama, live action-adventure, soap opera, behind-the-scenes, production, directing, the business aspect, marketing, graphic design and an entire online division."

The most exciting aspect for her, though, rests in the creative process. "The greatest thrill you can get is when you help a talent develop their character," she says. "You see that talented superstar take a little piece of advice or suggested dialogue and turn it into something larger than you ever could've imagined."

Her most vivid memory of 1985's groundbreaking WrestleMania came shortly after the conclusion of the event. "We had a post-party at the Rainbow Room," she remembers. "I fell asleep on Andre The Giant's lap; he was my friend. I still have the picture that People magazine took of me on his lap. I grew up in a world of midgets and giants, watching live events at places like Madison Square Garden. I still feel that rush and then some. Maybe it's a fairy tale -- but it's my fairy tale and I love living it."
Professional Wrestling... Television's first major attraction
Professional wrestling is supposed to be yesterday's news, a soap opera-style hybrid of sports and entertainment that might be expected to struggle to find an audience in these cynical and reality-driven times.

And yet there sits World Wrestling Entertainment, still packing'em in, an international brand and television force that continues to expand on the eve of the 20th WrestleMania pay-per-view extravaganza.

Today, WWE chairman Vincent K. McMahon and his wife Linda rule over an empire that remains a quadruple TV threat: on network television, cable, in syndication and on PPV.

There's "WWE SmackDown!" every Thursday night on UPN. There are WWE shows on Saturday, Sunday and Monday nights on basic cable's Spike TV, headed by flagship "WWE RAW" and "WWE RAW Zone" on Mondays. There is Saturday morning syndication to more than 200 stations in the United States. And then there are the monthly pay-per-views -- from WrestleMania to SummerSlam to the Royal Rumble and beyond.

Some 50 weeks of live original programming come out of WWE each year. The organization has overcome skepticism (from the Madison Avenue establishment), competition (notably from Turner Broadcasting's now-defunct World Championship Wrestling), a name change (from the World Wrestling Federation, or WWF) and the fickle nature of entertainment itself to thrive into the new millennium.

"We haven't had to reinvent the wheel," insists McMahon, who bought the company that would ultimately become WWE in 1982 from his father Vincent J. McMahon. "We've simply taken sound business principals and applied them. I mean, wrestling was a proven television commodity and a draw long before I got into the business. It was the first tailor-made TV event. So the audience has always been there."

Experts agree that what the McMahons did to raise pro wrestling to the next level was take an unapologetic, amped-up view of their product that discounted as irrelevant the legitimacy of the competition itself. Indeed, this is how far things have come for WWE since the first WrestleMania: There was still debate back then over whether what the athletes were doing was real or -- for lack of a better term -- fake.

"Vince and Linda pioneered the idea that the value of the event as entertainment wasn't dependent on its outcome," says Basil DeVito, WWE senior TV adviser, who has held various positions with the organization since 1985. "They reasoned that these were athletes who could do spectacular things. It was great choreographed entertainment, not fake -- a terminology that I rankle at."

Agrees Kevin Dunn, WWE executive vp TV production, who has been with the organization since 1980: "We've admitted to what we are because we're proud of who we are. We're no different than any other dramatic series on television. When we do our product right, it's just like doing a movie. No one sits there charging that the movie is fake."

When Vince McMahon joined his father's Capitol Wrestling Corp. full time in 1972, the only TV exposure for wrestling came via syndication. From '72-'79, Vince K. took wrestling from nine stations to 30. Then, coinciding with Vince and Linda purchasing the company from the elder McMahon and incorporating it as Titan Sports, cable came into play in a significant way. The company's first national carriage deal was, ironically, with Ted Turner's Superstation WTBS. By 1982, it had defected to the USA Network and begun a monumentally successful 17-year weekly run.

"Vince was really one of the first people to understand tiering in television," DeVito says. "He foresaw that you didn't need to abandon syndication just because you were being distributed across the country on basic cable."

USA Network founder Kay Koplovitz credits McMahon as a savvy marketer without peer who was "a great creator of characters and story lines for our shows. They were a main product of USA Network's success and a magnet in our evolution."

With cable going great guns and syndication still in the mix, the third element came for WWE in 1985 in the form of network television -- specifically "Saturday Night's Main Event" on NBC. It was a wrestling show that ran six times a year in the "Saturday Night Live" time slot. NBC Sports president Dick Ebersol remembers the partnership as a remarkably fruitful one.

"Vince and I had a great time together," says Ebersol, who remains close with McMahon. "There are few people you run across in this business who are more straightforward, more talented, more honest. If anything ever happened to me, I'd be thrilled if he were to become the principal guiding force behind my son's life. He's a great guy who happens to make his living in a larger-than-life cartoon."

It was also in 1985, of course, that WrestleMania I came to be. It was the beginning of an unprecedented four-pronged wrestling effort that would have a cumulative and complementary, rather than cannibalizing, effect.

"Vince figured out a way to make all types of TV distribution interrelate and feed off each other," DeVito says. "That's his vision and genius."

By 2003, 5.5 million households would be purchasing WWE pay-per-view events annually at a rate of $20-$30 a shot. Yet it must also be mentioned that there was a time in the mid-1990s when the then-WWF may have leveraged itself a bit too much. The live Monday night shows were doing great business on the USA Network, averaging ratings of 3.5 and 4. Then came the competing WCW shows on Monday nights over at TBS Superstation and TNT. Pretty soon, the WWF was being bodyslammed by the WCW in the weekly ratings.

"We made something of a miscalculation then," DeVito says. "We were in the total entertainment business, with live events, merchandising, international touring, publishing, the whole ball of wax. The Turner organization just does television and programming. They were able to focus just on that one aspect and were able to fire all of their guns. Pretty soon, they were doing 5 ratings and we slipped to the high 3's.

"So we saw that and began to amend the way we did our overall business. And we rose to a 6 rating. ... (The competition) was ultimately good for wrestling and one of the best things that ever happened to this company. It forced us to look at our business differently and we got better as a result."

Turner would ultimately fold up the WCW tent. Observes McMahon dryly: "Sometimes, when it's cutthroat competition, someone's got to die. I'm just glad it was them."

So valuable was the competition, in fact, that the McMahons and WWE found it necessary to create it from within. Two years ago, there had been a perceptible dip in WWE interest. And so an effort was made to split the TV brand literally in two by marketing the "RAW" and "SmackDown!" names as separate entities.

The TV brand split also enables WWE to have a broader presence internationally, says Kurt Schneider, WWE executive vp marketing. With a pair of touring companies, one can be sent to conduct a live show overseas. Over the past few years, WWE has expanded its international reach from two events annually outside of North America to 30. There have been visits to the United Kingdom, Australia, Japan, India, South Africa and, most recently, Iraq.

Back on domestic turf, meanwhile, "WWE SmackDown!" and "WWE RAW" continue to be the drivers that keep the WWE bandwagon moving steadily forward. Now in its fifth season, "SmackDown!" is UPN's highest-rated series and ranks third in the 18-34 audience demo in the most competitive time slot imaginable: on Thursday nights at 8 p.m. opposite the likes of "Friends" and "Survivor."

"It's excellent counterprogramming that we view as great family entertainment," UPN president Dawn Ostroff says. "WWE is a terrific form of melodrama with action that's greatly appealing to young men. And surprisingly, 34% of the audience for it is women."

Spike TV, which emerged last year from Viacom's The National Network, has found its most dependable traction to date with WWE offerings (which include not just "RAW" but also "WWE Velocity" and "WWE Confidential" on Saturday nights and "WWE Heat" on Sundays). "RAW" remains the No. 1 regularly scheduled entertainment series in all of cable.

"The WWE has clearly put Spike on the map and right there at the top of the heap in terms of visibility," Spike TV president Albie Hecht says. "It provides the perfect guy fit for us. It combines great action and great athleticism with comedy -- and one of the longest-running soap opera story lines on TV. I mean, what's not to like?"

But no matter how good the news is about the WWE's viability as a television product and show business empire, McMahon, for one, vows never to be satisfied.

"One of the mistakes people make is that once they achieve a certain plateau in entertainment, they tend to rest on their laurels," McMahon says. "That'll never happen with me. I'm still hungry and passionate about what we do."
A Promotional Wheel thats always Turning
Compared to the bustling streets of Manhattan just an hour away, Stamford, Conn., seems positively sleepy on this cold winter day. Only a few cars and pedestrians wind their way through the city's downtown.

The building at 1241 East Main St. would blend into this quaint picture quite naturally -- that is if it weren't for the black banner with the white scratch logo that flies over its roof like a pirate flag, greeting visitors approaching the city from the highway.

Inside, the atmosphere may be friendly and laid back, but it's buzzing with activity nonetheless as several hundred people gear up for their company's biggest day of the year.

Welcome to the headquarters of World Wrestling Entertainment, whose weekly wrestling shows and "sports entertainers" have long made Stamford the wrestling capital of the world.

That is particularly true these days as WWE prepares for the 20th edition of WrestleMania, its annual flagship pay-per-view event.

Scheduled for March 14 at New York's Madison Square Garden -- already host to WrestleManias I and X -- the event has been the focus for everyone at the headquarters for months.

"WrestleMania is a cornerstone of what we do. It is our Super Bowl," WWE CEO Linda McMahon says. "We have all rallied around WrestleMania XX since late summer."

WWE has pushed WrestleMania XX by using all parts of its elaborate promotional machine -- from monthly magazines and weekly TV shows to Web sites and merchandise. If you walk through Time Square these days, you'll even find the WrestleMania XX logo staring back at you from trash cans.

Indeed, the sports entertainment business has long made WWE a mini media conglomerate of sorts.

"I have never worked at a Disney or Time Warner, but we are very similar in a smaller way," McMahon says. "We clearly are a multimedia company that just happens to be very focused on a niche that we are really good at."

Cooperation between the different WWE divisions, everyone here in Stamford agrees, is key to the success of the world's largest "sports entertainment" concern, which has brought in revenue of about $400 million in its most recent fiscal years. And WrestleMania XX is a prime example of the way the different divisions work together to promote the company's product.

WWE's creative department, which services the whole company by creating and designing everything from annual reports to Christmas cards to PPV posters and more, has been focused on the big pay-per-view event for nearly a year.

"WrestleMania XX has been a yearlong priority for us," says Debra DeGeralomo, senior creative director of promotion and marketing, who has been at WWE for 13 years. "Early on, we created a special WrestleMania XX bug (logo). And we have been putting it on everything the company produces or puts out."

Indeed, the creative unit has made sure for months that every WWE T-shirt, magazine, live-event program and poster carries the bug to remind audiences that the mother of all annual PPVs is coming up again.

Another big contribution from the creative department is the WrestleMania XX poster. Discussions over the design started before Christmas. "Sometimes, we have to turn around and change things on a dime because story lines change or a superstar gets injured. But we always want to develop some strong options ahead of time," DeGeralomo says.

"For WrestleMania, we usually go for the Super Bowl epic feel," she adds. "Our superstars are our best and only real asset. They are larger than life for our fans, and we want to show them that way."

WWE supervising producer Jennifer Good knows that as well. Having started at WWE right out of school 15 years ago, she is now one of the senior TV people whose job it is to ensure that the seven weekly wrestling shows seen on U.S. TV -- nine hours of programming in all -- are up to the standards that WWE fans expect.

"Without our TV product -- live and recorded -- all else suffers," Good says. "We have very high standards of excellence because we are like a soap opera that never ends. So, we need highly specialized and enthusiastic people to work here."

Is the WWE's TV work comparable to an NFL broadcast? Good has to laugh at the comparison. The NFL may be good, but "they can set up for one game all week. We try to put on the Super Bowl every Monday and Tuesday and some Sundays as well" and particularly at WrestleMania, she says.

In recent months, her department has helped remind viewers of the big event. "We started months ago to show the WrestleMania XX logo on all of our TV shows," she says. "Sometimes, you just see it hanging from the arena's ceiling in a wide shot. We have also had replays of classic WrestleMania moments on our (TV) shows to kind of set the stage and show some of the history."

The merchandising unit's job meanwhile is to develop new clothing and other items for talent. Having hot merchandise is particularly important in the run-up to WrestleMania, says WWE director of merchandising Todd Bold, as the company wants to ensure that featured superstars have the right momentum going into the event.

In recent months, a T-shirt for longtime WWE star "Stone Cold" Steve Austin has become one of the company's best-selling items ever. Austin suggested the slogan "F*ck Fear: Drink Beer," and the WWE team saw promise in it. As a result of strong sales for the T-shirt, the unit has rolled out other items with the tagline, from baseball caps and varsity jackets to boxer shorts.

Licensing director Florence DiGiorgio says her division also is helping to create excitement about WrestleMania, though licensing WWE characters and concepts to producers of trading cards, books, video games, and action figures usually requires longer lead times than merchandise and is often less tied to current WWE story lines and events.

"We did a deal with Fleer, which created special collectible trading cards for WrestleMania XX that we have offered fans who have ordered our pay-per-views," she says.

Even the home video department, which usually releases PPV events on DVD after they happen, has helped create some buzz for WWE on the long road to WrestleMania XX.

As part of a recently signed multiyear record deal with Columbia Records, the company in January released a collection of original songs performed by its superstars under the title "WWE Originals." The CD, which debuted at No. 12 on the Billboard 200, is designed to "serve fans and also create some general attention" outside the die-hard audience, WWE director of home video Joel Satin says.

His department also has satisfied fans' hunger for retro content in recent months by releasing various multidisc DVD collections with classic matches from industry veterans such as Ric Flair, Mick Foley and Shawn Michaels, all of whom are expected to appear at WrestleMania XX.

Some attribute this common focus and cooperation of different parts of the WWE promotional machine for WrestleMania to the McMahon family's leadership and the staff's unwavering support of WWE product.

"It feels like a family company" where everyone has the same focus and passion, says Lisa Lee, director of global TV business affairs. "Part of it, I think, is the dedication you feel from the McMahons at everything they do."

To be sure, a similar dedication can be found within WWE's fan base, which helped sell out WrestleMania XX in less than five minutes.

Besides people from every U.S. state, the event will bring to Manhattan fans from countries all over the world, including Canada, the United Kingdom and Japan.

And what happens once WrestleMania XX is over? Will the WWE promotional machine get any rest? No way, the people in Stamford say.

"The show never stops. We have no off-season," Good says.

"While we often have story lines culminating at WrestleMania, there's always a 'RAW' the day after the pay-per-view event and a 'SmackDown!' the following day," Linda McMahon says.

And, sure enough, there will be another WrestleMania next year.
Lights, Camera, Action!!!
Making the transition from ring actor to movie actor
World Wrestling Entertainment has shown through its previous sports entertainment ventures it certainly knows about character development and story-line arcs, so it only makes sense to extend its team of personalities on to the big screen and in to more traditional scripted programming TV series.

Thus the creation of Beverly Hills-based WWE Films in mid-2002, which brought on board Joel Simon to serve as president and Jed Blaugrund as vp.

The two are charged with finding properties to feature WWE talent. While all genres are in play, there is an initial focus on action projects, which Simon and Blaugrund see as ripe for resuscitation as previous action denizens such as Clint Eastwood, Arnold Schwarzenegger, Sylvester Stallone and Steven Segal either move on to other types of projects or have lost their once-seemingly-untouchable massive boxoffice appeal with audiences.

That challenge was part of the attraction in signing on for Simon, who, prior to joining WWE Films, among other posts, had run Quincy Jones Media Group, and served as a producer on a number films, including last year's "The In-Laws" as well as the first "X-Men," "Wild Wild West" and "Hard to Kill".

Simon, who had been a fan of wrestling going back to his days growing up in New York City, says it was his initial discussions with WWE chairman Vince McMahon that sold him on the idea.

"(W)e talked about ... where the future of this business is," Simon says in an interview. "What kind of companies will succeed in this business -- especially companies who are looking to have some independence and finance their own films. How does that fit into the system? ... Surely Vince has a strong mind in respect to, 'Let's get some movies made.' But, at the same time, we talked about what is the right movie? What is the right TV show for us? And there is where we really totally agreed -- since we already have this enormous fan base and it's such a strong brand, let's make movies for our fans. And, hopefully, fulfill their appetite."

Blaugrund, who previously served as senior vp development at Mostow/Lieberman Prods., came to the company with only a casual awareness of WWE talent and programming. However, after hanging out at a WWE pay-per-view event at Staples Center in Los Angeles and seeing the fan response, he was hooked.

The pair is keeping themselves open to all types of projects, to be sure. ("We are looking at everything," says Simon. "We have pitches. We've looked at books. We've looked at comic books. We've looked original ideas and we've looked at screenplays. So, it's the full gamut.")

But Simon and Blaugrund say they are hoping that, at least initially, hungry WWE fans will want to satiate their appetites with some good, old-school-style action projects -- a genre they feel is ripe for re-energizing and one that can build the foundation for future sequels.

"We do have a real plan with respect to the first couple of things we're going to be doing, and we felt that the old-fashioned, character-driven action movie is perfect for us, especially starring one of our guys," says Simon. "And when I say character-driven, I'm looking at (projects like the) 'Rambo,' 'Dirty Harry' and 'Death Wish' (films) -- where there's really a very strong story line and there's a really fine line between good and evil. And then, hopefully, the audience is rooting, as in 'Death Wish' or in 'Rambo,' for this underdog."

Another area of interest for the company is the recently resuscitated horror genre.

"(W)e are really excited about the horror area," says Simon. "We really do believe our fans went to see (2003's) 'Freddy Vs. Jason' and 'The Texas Chainsaw Massacre.' I think they like that world a lot."

Blaugrund, in the same interview, picks up on the good-evil theme, citing as a model the success WWE's wrestling arm has had with its creation of bad guys fans love to hate.

Not only does WWE "create the good guy that you want to see win, but they create a bad guy that you absolutely want to see his ass kicked," Blaugrund says. "It's not just a good guy succeeding. It's just as much of rooting against the bad guy going down. And we want to create villains in our movies that have a rooting interest that's in the opposite direction."

Any WWE personality who makes the leap to a WWE Films project will leave their wrestling persona on the mat, so to speak.

"I look at it like, that's their day job, what they do in the wrestling ring," Simon says. "They're wrestlers. I will never do a film about wrestling. ... We're going to do movies where we take a person, say Triple H, or whoever it may be, and we put him in a movie role. Not the persona of Triple H, per se. ... I don't want it to be perceived as 'the wrestling movie.' It's going to be a very talented person we are going to put into a movie because he or she is potentially a movie star."

As for the inevitable question concerning their faith in the ability of WWE talent to carry a film or TV program, Simon says it's not as far a leap as one might first think.

"... (W)ithout putting down anyone in Hollywood -- take any actor who gets a script. He gets it five weeks in advance. He rehearses. ... He then goes to make the movie. He does seven-to-10 takes per scene, if not more. He has someone else doing his own stunts. Now, you take our guys. Our guys come out and they are given a little information -- a scenario backstage about what their character is and what's going to be happening. They come out in front of 15,000 people -- plus another X amount of millions on TV -- and they talk. And they have to sell. The word is 'selling.' They have to sell this audience about that character they are portraying. And then they have to do their own stunts. So, am I comfortable that a couple of guys are good actors? Absolutely."

One only need to look at the success Dwayne "The Rock" Johnson has had in making the transition to the big screen to see the potential for WWE talent.

"The Rock has already proven that WWE stars have the charisma and marketability on the big screen," says Gary Davis, WWE vp corporate communications.(or a WWE spokesman). "... The main focus of WWE Films right now is to develop projects around our other WWE superstars to give them their opportunity to be successful to further their entertainment careers."

Taking a historical perspective, Blaugrund says WWE Films is looking more for compatibility of a WWE person with the right project vs. just giving them a starring vehicle for the sake of putting them at the center of it all to capitalize on the WWE brand.

"You look at something like '48 HRS.,' where they took this great comedian (Eddie Murphy) and put in him with a talented actor (Nick Nolte) and it worked out unbelievably well," says Blaugrund. "I think it would be great to put one of our guys with an established actor, whether it's a comedy or an action film. I think that would be fantastic."

Simon says that as long as stories stay true to the foundation upon which WWE has built itself -- the attitude and spirit of the WWE, that is -- everything's fair game.

"If it has the attitude of the WWE, and that's the key word Jed and I, in talking about stuff, and reading, it has to have the attitude, our attitude," Simon notes. "I think one movie that, as an example, I would be interested in, because I loved the movie and I loved what it cost, was (the original) 'American Pie.' That has the WWE attitude. It's about four boys who want to get laid, but at the same time it had a very sincere story going for it."

The division, at press time, has announced the film "Jornada del Muerte" (Journey of Death), a project that John Milius is writing and that will star Triple H (whose real name is Paul Levesque).

Also announced are an untitled horror movie pitch from writer Dan Madigan to star Kane as well as the action film "The Anvil," from writer Alan McElroy ("Spawn"). McElroy is also reworking a Michell Gallagher spec script, tentatively titled "The Marine," an action film in the vein of "First Blood" that is to star Stone Cold Steve Austin.

WWE Films will bring some form of financing to each project it is involved with, according to Simon.

And, Blaugrund notes, "When we talk to studios, they are all interested in making $100 million, gargantuan blockbusters, but, what's also interesting is that they are really interested in doing movies that are budgeted in the high-teens, mid-$20 (million) that have international appeal, that are genre movies. What we don't want to do is fall into that sort of middle ground, the sort of $60 million action movie, which is very hard to recoup. If we can keep it affordable, commercial and have the kind of high-octane, emotional experience you get from, particularly the live events, but also from the television shows, that's something we think we can do really well."

Simon points to a model Warner Bros. had much success with for its action films.

"You take the model of early Warner Bros., starting with Clint Eastwood, then Mel (Gibson) in the 'Lethal Weapon' movies, and then Seagal," he says. "You know, those were incredibly profitable films. They were all made for a price and really had a strong audience base and did really well. Obviously people have gone away from that, but I think in our initial conversations with the various studios, I think everyone's very anxious to get back into that world."

Simon stresses that the company isn't about slapping the WWE brand on some hastily made films that exit theaters quickly or series that have a short-life TV run. Hence the decision to move through process in a thoughtful manner.

"The most important thing for us -- and, again, this came back from the initial conversations I had with Vince and (WWE CEO) Linda (McMahon) -- is, let's identify some pieces of material that we all like," he says. "Let's identify some of the talent that we'd like to use and let's really focus. We don't need 10 pieces of material. Let's get a couple and let's get some movies going -- let's really, really focus and get these movies made.

"The material we're choosing, hopefully it's commercial material that we want to put in the best possible talent that we can," he continues. "And if we put in one of our stars, I think we will definitely surround him by the best available talent we can afford and we can find. It's no different than (Arnold) Schwarzenegger. No different than Bruce Willis. No different than Chuck Norris and (Steven) Seagal. All these guys, when they started in the movie business, in a lot of cases, they were from different areas, but they were put into traditional movies."

No overall theatrical distribution deal for WWE Films has been set as of press time, though the pair say an announcement of that and new projects is forthcoming. Simon has been encouraged by meetings with the studios. However, he notes that should a film not obtain theatrical distribution, WWE Films is more than willing to go the direct-to-video or pay-per-view routes.

Says Simon: "The theory that we are going in with here, which is what makes me excited and why I'm here, and what Vince and Linda were very excited about, it's very simple, things that we all agree that we want to do, we will do the due diligence, and obviously get it ready to do as a feature film. But if we don't get U.S. distribution, we have no problem doing that project direct-to-video. ... If for whatever reason a studio doesn't want to do it, we'll be very happy to do put it out direct-to-video. We like that business a lot. The WWE has been very successful in that business."

And, of course, there's the well-established marketing arm of WWE, which will give them a leg up in cultivating awareness of their projects in the marketplace.


"(WWE has) a lot of fans," says Simon. "There are a lot of people who understand what we bring to the picture. Hopefully, besides material and a piece of talent, is that marketing strength and the visibility of who we are. Very few companies that come into this town have that kind of brand."

Simon and Blaugrund are also intrigued by WWE Films' potential to tap into the global roster of men and women talent in the WWE family.

"I look at, right now, in our business, in all business, but for ours specifically, that it's a global business," says Simon. "So, I think when you are choosing material it has to have a global feeling to it either by the nature of the story or because you cast some international people. I think that fits for all castings right now. I think you must think in the sense of global."
WWE: The Leader in Pay-Per-Views
Look beyond the ring for the undisputed champion of WWE: That distinction belongs to its pay-per-view business, which has been flexing its revenue muscle for two decades now.

Drawing about 5.5 million buys for its PPV events last year, WWE has generated $1.5 billion in revenue for cable and satellite over the past 20 years. In 2002, WWE accounted for nearly half of all live-event PPV revenue, totaling $163 million -- nearly doubling the previous year. Eight of the top 10 events that year were wrestling-related.

"We're the only ones out there in the PPV universe that have a truly consistent presence," says Kurt Schneider, WWE executive vp marketing. "We generate the most pay-per-views of any one individual provider, and we have done so for 10 years."

Over the years, PPV has grown to be the primary revenue driver for WWE. In the late 1980s, when it was first launching, PPV earnings were dwarfed by gate receipts at live events and licensing and merchandising. As WWE began to build a significant TV presence, along with rights fees and revenue from sponsorships and advertising, those early profit centers became less essential. PPV revenue not only exceeds other television revenues now, but its profit margins are greater.

WWE's entry to PPV began with its first WrestleMania extravaganza in 1985 at Madison Square Garden in New York. While hundreds of thousands were treated to the event via closed-circuit screenings in many major cities, some 889,000 households had the capability to watch WrestleMania on pay-per-view. With little promotion of the new technology besides cross-channel spots on local cable systems, PPV reached about 7% of those households.

"It's been widely recognized that WrestleMania was really what gave birth to live-event PPV," WWE senior adviser Basil DeVito says.

During the next five years, WWE's PPV reach skyrocketed as cable operators enabled more homes. As distribution crept steadily into the millions, WWE began creating more events for the promising new platform.

By 1990, there were five yearly pay-per-views, including SummerSlam, the Royal Rumble and the Survivor Series. Today they remain the centerpieces of WWE's massive schedule of more than 250 live events spread across its broadcast, cable and syndicated properties. "They service the story lines, which build and build to monthly crescendos at pay-per-view events," Schneider says.

In 1985, WrestleMania scored 63,200 residential buys; 20 years later, top PPV events can top the million-household mark. Although WWE hasn't quite matched the heights it managed from 1999-2001, when marquee names like "Stone Cold" Steve Austin and the Rock maximized the company's popularity, it remains a force.

PPV has even adjusted to last year's strategy shift of splitting WWE into two separate brands, "RAW" and "SmackDown!" In June, WWE took the unprecedented move of introducing brand-specific PPV events, with four "RAW" shows, four "SmackDown!" shows and four that involved the combined properties. To the delight of WWE executives, the brand-specific shows are still big draws. "We went into that with angst and trepidation," Schneider says. "What we found was that we were able to hold our total buys, and when we combined, we almost doubled the individual audience."

WWE PPV also is unique in the sense that its major events are rebroadcast on a limited basis. "We have a very perishable product," DeVito says. "By the next day the story moves forward, and it's yesterday's news."

WWE has had to work harder than ever to promote its PPV events because the cable systems are becoming increasingly preoccupied with other ventures such as video-on-demand, broadband and voice-over-Internet protocol. "Cable operators don't offer as much support as they used to," Schneider says. "The promotional job falls squarely on us now."

Dan York, senior vp programming and development at PPV giant InDemand, says WWE has been a solid performer on PPV as of late. "We've seen a real uptick lately thanks to some strong story lines," he says. "The franchise remains strong."

Without any competition from WCW, the former rival that WWE acquired in 2001, executives believe that there is demand for still more PPV events on viewers' schedules. There are plans to add two more this year and still more events in subsequent years.

"The audience is not sated yet with one a month," DeVito says. "(And) There's no shortage of creativity here to drive the story line arcs."